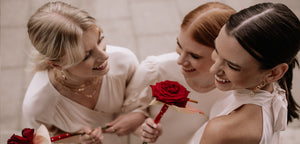 co founder sisters
India & Sinclair
Maids to Measure was set up in 2012, by sisters Sinclair and India Sellars. Seeing a gap in the market for gorgeous, affordable bridesmaids dresses, Maids to Measure became the first specialist British bridesmaid brand and what started as a small family company, organically grew into an award-winning brand and the go-to for bridesmaids dresses.
With completely different styles, taste and working backgrounds the sisters equally compliment the business. Sinclair, former lawyer, heads up the business and strategy side and India, the more creative of the two, focuses on the design and social.
The sisters have grown the brand from an idea and doing appointment from home to the leading British bridesmaid brand hosting thousands of brides over the year. Advocates of female founded businesses, the sisters are a prime example of how business dreams do come true!
From starting their business from home, they have recently opened their flagship Chelsea store, offering customers one-on-one appointments to search for their dream dresses in a relaxed, friendly environment. With dresses ranging from classic to contemporary, in addition to a plus-size range there really is something for everyone, which the girls know is important when dealing with a bridal party with mix of body types, colourings and opinions!
partner
Touker Suleyman
Over the years the company has evolved, from solely bespoke dresses (hence the name Maids to Measure!) to 'off the peg' dresses. A decision decided when the company received investment from Dragons Den, Touker Suleyman.
Suleyman loved the brand and the girls passion for it and has been an involved partner, working closely with the girls since 2016.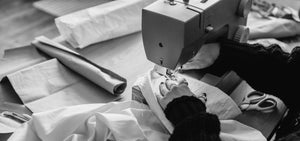 All of our dresses are made with love
Design
All our dresses are designed from our London workshop,  the sisters are the creative design force behind the brand and work hand in hand with their incredible manufacturing team.
Everything is designed with fit and quality in mind and all dresses are created to make sure that all dresses compliment each other to allow brides to select dresses dependent on the girls shape and style whilst picking up features from each other so they can all be work together.
Maids to Measure specialise in the most beautifully made dresses at an accessible price point.
Manufacturing
Maids to Measure are proud to partner with our European manufacturer. We are so thankful to have found a production team that are like a second family. When we started our own line we knew they were the only ones.
We visit our production team often and love bringing the creative and technical together to form their collections.