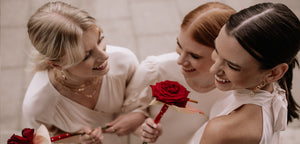 The original British Bridesmaid Brand
Maids to Measure was founded by sisters Sinclair and India Sellars,
when they realised there was a gap in the market for a fashion-forward bridesmaids brand. Maid is the original British bridesmaid brand that allows bridesmaids to mix and match their bridesmaids dresses.
undecided on what colour
Shop by Colour
Confused what colour to go for? browse are dresses by colour. We have everything from pastel dresses, bold colours and neutral colour dresses perfect for any event.
Design
All our dresses are designed from our London workshop,  the sisters are the creative design force behind the brand and work hand in hand with their incredible manufacturing team. Everything is designed with fit and quality in mind and all dresses are created to make sure that all dresses compliment each other to allow brides to select dresses dependent on the girls shape and style whilst picking up features from each other so they can all be work together.